RISK ASSESSMENT OF FOREIGN DIRECT INVESTMENT OF CHINESE AGRICULTURAL ENTERPRISES
Zhang Lei

Sumy National Agrarian University

Nataliia Maslak

Sumy National Agrarian University
Ключові слова:
agribusiness, direct investment, risk assessment, comprehensive environment
Анотація
With the global trend of foreign direct investment, Chinese agricultural enterprises have also increased the pace of foreign direct investment. At present, Chinese agricultural enterprises have invested in development in more than 30 countries, including Southeast Asia, Africa and Latin America. Ocean fisheries development is underway in the high seas of the Pacific, Atlantic, and Indian oceans. There are also planting and forestry bases in the Russian Far East and Central Asian countries. The benefits of Chinese agricultural enterprises' overseas investment are obvious. It is not only conducive to Chinese enterprises to use foreign resources, funds and technology, but also to avoid various barriers and increase the international market share. However, while encouraging China's agricultural enterprises to go global, we should also be clearly aware that the overseas direct investment of China's agricultural enterprises is still in the primary stage. The level of agricultural enterprises is still relatively low, and overseas direct investment faces a variety of risks. Analysis and studying these risks will help Chinese agricultural enterprises to effectively prevent and control them in foreign direct investment. By taking into account the integrity and dynamics of the overseas direct investment environment, the risk evaluation index system of foreign investment projects of Chinese agricultural enterprises is constructed. Representative items were selected for risk evaluation using hierarchical analysis and entropy weight coefficient method. The results show that there are prominent risk factors such as international agricultural market risk, political and legal risks of host countries, domestic institutional barriers and enterprise own technical restrictions. In order to prevent and reduce investment risks, the government should increase policy support and set up special agricultural overseas investment service institutions. Enterprises should establish an effective risk evaluation mechanism to promote the research and development and promotion of agricultural technology.
Посилання
Morck, R.B. Yeung and Minyuan Zhao (2008) "Perspectives on China'5 Outward Foreign Direct Investment." Journal of International Business Studies, 39( 3):337-350.
Cai, KevinG (1999) "Outward Foreign Direct Investment :A Novel Dimension of China, 5Integration into the Region and Global Economy." Tho China Quarterly, 160:856-880.
Deng Ping (2004) "Outward Investment by Chinese MNCs: Motivations and Implications." Business Horizons, 43(3):8-16.
Qu Xiang. Research on Investment Risk of Chinese Agricultural Listed Companies [D].Central China Agricultural University, 2010.
Yin Chengjie. The dual influence of agricultural multinational companies and agricultural internationalization [J]. Agricultural Economy Issues, 2010, (3).
Xu Miao Miao. China's subdivision industry and location selection of African transnational agricultural investment [D]. Zhejiang Industrial and Commercial University, 2010.
Han Qi. Analysis and Thinking on the Scale of Agricultural Investment in China [J].International Economic Cooperation, 2010, (10).
He Junxiang. The way out to join WTO agriculture is to improve the competitiveness of agricultural products [J]. Business Research, 2004, (7).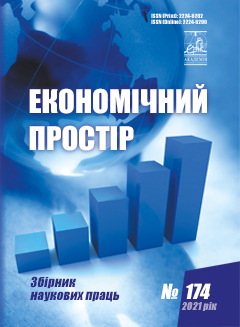 Переглядів статті: 46 Завантажень PDF: 24
Як цитувати
Lei, Z., & Maslak, N. (2021). RISK ASSESSMENT OF FOREIGN DIRECT INVESTMENT OF CHINESE AGRICULTURAL ENTERPRISES. Економічний простір, (174), 17-21. https://doi.org/10.32782/2224-6282/174-3
Розділ
СВІТОВЕ ГОСПОДАРСТВО І МІЖНАРОДНІ ЕКОНОМІЧНІ ВІДНОСИНИ